DJI Enterprise - Elevating Your Business to New Heights with Drone Technology
Drone technology has taken the world by storm, and DJI Enterprise is at the forefront of this revolution. With a range of commercial drones designed to cater to various industries' needs, DJI Enterprise is offering businesses the opportunity to embrace cutting-edge technology and drive innovation. In this blog post, we'll delve into the world of DJI commercial drones, exploring their capabilities, applications, and some of the powerhouse models changing the game everyday commercial drone, for businesses worldwide.
Embracing Drone Technology for Business Growth
DJI Enterprise is committed to transforming the way businesses operate by providing them with powerful and easy-to-use drone solutions. These cutting-edge technologies have the potential to greatly improve efficiency in various sectors, including agriculture, construction, public safety, infrastructure, and more.
By leveraging these state-of-the-art drones, businesses can now access remote or difficult-to-reach locations for inspection, analysis, and data collection. This capability not only enhances the scope of operations but also significantly reduces the time and cost associated with traditional methods. As a result, businesses can achieve improved performance and access new growth opportunities.
Safety First: DJI Enterprise Drones Designed with You in Mind
One of the most critical aspects of drone operations is ensuring the safety of both the operators and the equipment and surrounding environment. DJI Enterprise drones are built with safety in mind, featuring several technologies designed to minimize risks during flight. These include obstacle detection sensors, precision landing capabilities, and even automated flight modes.
To support and further bolster public safety applications, DJI Enterprise drones also adhere to stringent industry standards and regulations. By offering a range of drones suitable for different applications, businesses can now confidently embrace drone technology to improve their operations without compromising safety.
Powerful Thermal and Visual Sensors Capabilities with DJI Enterprise
DJI Enterprise drones come equipped with advanced thermal imaging capabilities that have a wide range of applications in various sectors. These highly accurate thermal cameras can detect even minute temperature differences, making it simpler for operators to mine thermal data to identify areas of concern or potential hazards hidden from plain sight.
Some of the practical applications of these thermal cameras include tracking wildfires, firefighting, conducting search and rescue operations, and performing routine inspection of critical infrastructure like power lines and gas pipelines. By using thermal imagery and offering improved situational awareness, these thermal cameras can make all the difference in ensuring safety and mitigating damage.
Introducing DJI Matrice 300 RTK: A Game Changer for Your Business
DJI Matrice 300 RTK with Shield Basic | unmanned.store
Equipped with powerful features like a 55-minute flight time, 6-directional obstacle detection, and RTK module for centimeter-level accurate navigation and mapping, the DJI Matrice 300 RTK stands as an industry-leading example of DJI Enterprise's dedication to innovation.
This powerful drone is designed to cater to the needs of professionals in industries such as construction, agriculture, and public safety. Its accuracy, long flight duration, and rugged build make it an ideal choice for businesses looking to enhance their operations with cutting-edge drone technology.
A NEW STANDARD FOR THE COMMERCIAL DRONE INDUSTRY
The Matrice 300 RTK is DJI's latest commercial drone platform that takes inspiration from modern aviation systems. Offering up to 55 minutes of flight time, advanced AI capabilities, 6 Directional Sensing & Positioning and more, the M300 RTK sets a whole new standard by combining intelligence with high-performance and unrivaled reliability.
IMPROVED TRANSMISSION SYSTEM
The all-new OcuSync Enterprise enables transmission up to 15 km away and supports triple-channel3 1080p video. Real-time auto-switching between 2.4 GHz and 5.8 GHz4 enables more reliable flight near high-interference environments, while AES-256 encryption offers secure data transmission.
MULTI-SENSOR PAYLOADS
See the full picture without missing any details wherever, whenever your mission takes place.
SEAMLESS USER INTERFACE
A new integrated user interface lets you quickly switch between wide, zoom, and thermal camera views, and preview the zoom FOV while in wide or thermal camera view.
INTELLIGENT WAYS TO COLLECT DATA
AI SPOT-CHECK
Automate routine inspections and capture consistent results every time. Onboard AI recognizes the pre-marked subject of the point of interest in subsequent automated missions to ensure consistent framing.
HIGH-RES GRID PHOTO
Frame an area of interest in wide camera view, and the zoom camera will automatically capture a set of 20 MP images of the area. These images are stored together with an overview image that can be viewed in greater detail.
ENHANCED FLIGHT PERFORMANCE
The refined airframe and propulsion system design gives you a more efficient and stable flight, even in harsh conditions and rain.
REDUNDANCY SYSTEMS FOR SAFER FLIGHTS
The M300 RTK's built-in advanced redundancy systems help keep your critical missions going even in unexpected scenarios.
ADVANCED DUAL CONTROL
Either operator can now obtain control of the aircraft or payload with a single tap. This creates new possibilities for mission strategies as well as higher flexibility during operations.
ZENMUSE H20 SERIES
"H" For Hybrid
Multi-sensor payloads that bring a whole new meaning to mission efficiency. The unique intelligence and integrated design provide unprecedented aerial imaging capabilities for a range of commercial drone applications.
ALL THE SENSORS YOU NEED – IN ONE
Capture everything. Up close or from a distance. In true living color or thermal front vision. An integrated laser rangefinder (LRF) measures the distance to an object at up to 1200 m away. A powerful, integrated payload that unleashes advanced intelligent capabilities for DJI's industrial drone platforms.
H20 – TRIPLE-SENSOR SOLUTION
20 MP Zoom Camera | 12 MP Wide Camera | 1200 m LRF
H20T – QUAD-SENSOR SOLUTION
20 MP Zoom Camera | 12 MP Wide Camera | 1200 m LRF | 640×512 px Radiometric Thermal Camera
MATRICE 300 RTK
More Adaptable Than Ever Before
15 km Max Transmission

55-min Max Flight Time

6 Directional Sensing & Positioning

Primary Flight Display

IP45 Rating

Advanced Dual Control

Hot-swappable Battery

-20°C to 50°C Operating Temperature

UAV Health Management System

Up to 3 payloads simultaneously

Supported DJI Gimbals: Zenmuse XT2/XT S/Z30/H20/H20T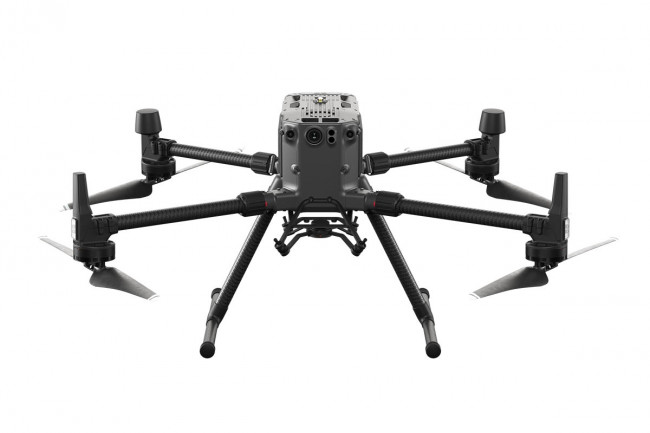 Revolutionizing Agriculture with DJI Agras T20
DJI Agras T20 Combo | unmanned.store
Another flagship drone from DJI Enterprise is the Agras T20, specifically designed for agricultural applications. With an impressive payload capacity of 20 liters and a spraying range of up to 7 meters above ground up, the Agras T20 enables farmers to optimize crop management and boost productivity.
Its advanced flight performance and terrain following capabilities ensure seamless aerial application and inspections over various types of terrains for the everyday drone pilots. Combined with robust artificial intelligence, the Agras T20 is quickly becoming an invaluable tool for the agriculture industry.
INTELLIGENT AND POWERFUL
With its powerful performance and outstanding spraying capabilities, the T20 can conduct autonomous operations over a variety of terrains in complex environments, such as broadacre farmlands, terraces, and orchards. New features, like an omnidirectional digital radar, have helped the T20 take stability and flight safety to the next level, providing users with highly efficient results.
IMPROVED EFFICIENCY
The T20 features a payload of 20 L coupled with a spray width of 7 m, making the speed of the operation more efficient.
EFFORTLESS AND PRECISE
Being a comprehensive spraying system, the T20 allows users to set flight and operation parameters easily. With a built-in RTK centimeter-level positioning system and RTK dongles, centimeter-level waypoint recording is enabled, strengthening operations greatly and ensuring precision spraying.
GREAT POWER, GREAT PERFORMANCE
The T20 comes equipped with 8 nozzles and high-volume pumps that can spray at a rate of up to 6 L/min. A highly optimized wind field produces droplets ideal in size and consistency. The T20 model is also equipped with a new 4-channel electromagnetic flow meter, which monitors and controls four hoses individually, ensuring an efficient flow rate for each nozzle.
INCREASED FLIGHT SAFETY
The T20 is equipped with an omnidirectional digital radar, which is able to detect obstacles from the sky in all horizontal directions. It can also automatically circumvent obstacles while flying over various terrains, ensuring a high level of operational safety. With this radar, the T20 can adapt to fly in most environments, 24/7, thanks to its strong resistance to dust and water. The T20 also comes with a real-time FPV camera and two searchlights, providing users with comprehensive live views even at night.
ALL-NEW AGRAS SMART CONTROLLER
DJI has successfully elevated the performance of the T20 thanks to the new programmable Agras Smart Controller 2.0 and the DJI Agras app. The user interface runs smoothly and is incredibly intuitive. In addition, the smart remote controller comes with an ultra-bright 5.5-inch display, visible even under strong sunlight. It also supports external battery packs and can last twice as long as other remote controllers, perfect for lengthy or heavy workloads.
INCREDIBLY DURABLE, IMPROVED PORTABILITY
With a robust modular design, the T20 folds and unfolds in seconds, making it more portable than other agricultural and industrial drones around. The spray tank and battery are both swappable, reducing downtime and increasing workflow significantly. All core modules are IP67 rated. They can also withstand splashes when cleaning the aircraft body, which can be done easily with water.  Thanks to a 4-channel electromagnetic flow meter, 4 electromagnetic exhaust valves, and replaceable diaphragms for pumps, calibration and maintenance of professional drone have become incredibly easy. Additionally, air bubbles can be discharged with a single press of a button.
SPREADING SYSTEM 2.0
The Spreading System 2.0 elevates the efficiency of the T20 significantly by utilizing a payload of 16 L and a dispense rate of up to 15 kg/min. For direct seeding with grains 0.5-5 mm in size, the Spreading System 2.0 performs 70 times faster than manual operations. This improved form of planting is designed for multiple application scenarios, such as grassland reseeding, granular fertilizer spreading, and the spreading of feed for fish and shrimp. Installation of the system can be completed in under three minutes, proving that it is always ready for the task ahead.EASY-TO-USE AGRICULTURAL SOLUTIONS
With comprehensive DJI agriculture solutions, operating in broadacre farmlands, orchards, or grasslands, has become a lot simpler. The combination of the T20 and these comprehensive solution packages elevates the possibilities of drones in the agricultural industry.
3D FLIGHT ROUTE PLANNING
Navigating through challenging terrains is now an issue of the past, thanks to a brand of 3D flight route solution. The Phantom 4 RTK scans and maps target areas, making it easier to identify all aspects of the field. In Orchard mode, 3D flight routes can be generated based on the shapes of each tree after they are identified. Afterward, users can conduct efficient spraying with their T20.
PRECISION FARMING
Our agricultural solution packages are designed to monitor crop health and generate variable treatment procedures. The P4 Multispectral scans target areas and generates multispectral charts that provide actionable insights into crop health and help formulate variable spraying and seeding site maps. Through the DJI Agriculture Management Platform, users can access DJI Terra shapefiles and apply them to spraying and seeding operations.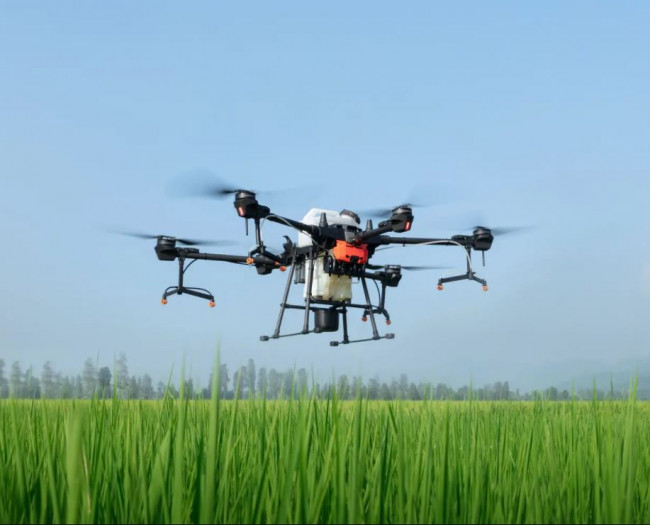 DJI Enterprise has undoubtedly changed the game for businesses worldwide.
By offering powerful drone solutions designed to improve energy efficiency, safety, and mission performance. By staying ahead of the curve and continually innovating, DJI Enterprise is poised to shape the future of commercial drone usage for years to come.
Whether you are considering adopting drone technology to enhance your business operations or simply seeking ways to stay at the top of your industry DJI Enterprise drones offer the reliability, advanced capabilities, and diverse range of applications your business needs to thrive.