DJI RoboMaster S1 Educational Robot
Regular price

Price:

$549.00

Regular price

List Price:

Sale price

Price:

$549.00

Unit price

per
CP.RM.00000103.01
5 Great reasons to buy from us:



Fast, Free Shipping




Safe & Secure Checkout




Easy Returns




Product Guarantees




Top Customer Service
*Cannot ship to DC or North Dakota*
Why isn't the RoboMaster S1 sold in Washington, D.C. or North Dakota?
The RoboMaster S1 can launch soft gel beads. In Washington, D.C. and North Dakota there are  restriction requirements for the use of similar products. For example, the products in question can only be used for drama performances, sports competitions, or in qualified shooting environments, where prior approval of the police has been issued. In order to avoid the risk of violating local laws and regulations, the RoboMaster S1 will not be sold in Washington, D.C. or North Dakota. We apologize for the inconvenience and thank you for your cooperation.
The RoboMaster S1 is DJI's intelligent educational robot that lets users dive into the world of robotics, programming, and AI through exciting features and gameplay.
The RoboMaster S1 is a game-changing educational robot built to unlock the potential in every learner. Inspired by DJI's annual RoboMaster robotics competition, the S1 provides users with an in-depth understanding of science, math, physics, programming, and more through captivating gameplay modes and intelligent features.
Designed to Win
The S1's design is a striking example of machine efficiency. With powerful configurations, the S1 lets you create, conquer, and push your limits as far as you're ready to go.
Scratch & Python Programming
The S1 supports the Scratch and Python programming languages. This allows you to take your abilities to the next level, whether you are new to coding or are already on your way to becoming an expert.
Endless Possibilities
Up to 46 customizable components give you unlimited space for innovation, helping you grow and learn in an exciting way that expands the capabilities of your S1, and yourself. Six PWM ports support customized accessories, allowing you to explore the unlimited possibilities of the S1 and the magic of the robotic world.
Experience AI Technology
AI technology lets the S1 recognize gestures, sounds, and even other S1 robots. Playing with the RoboMaster S1 opens the doorway to AI learning, giving you a practical introduction to the technologies of tomorrow.
See the Action
Enjoy a unique and immersive driving experience with the S1's exhilarating FPV perspective.
Race
Compete against opponents on your own custom track. Unlock special skills like extreme speed by recognizing specific Vision Markers, or unleash weapons like dizziness against competitors to gain an edge and win the race.
Free-For-All
There can only be one winner in this competition of wits and speed. Use custom skills to get an edge and defeat opponents in this thrilling melee that utilizes the S1's unique referee system and intelligent sensing armor.
Develop Custom Skills
In any competition, wisdom is equally as important as power. The S1 enables users to apply their classroom knowledge to compile custom coding, unlocking unique functions that will surprise onlookers and defeat competitors. With its new education concept, the S1 helps users embrace the joy of learning in new and exciting ways.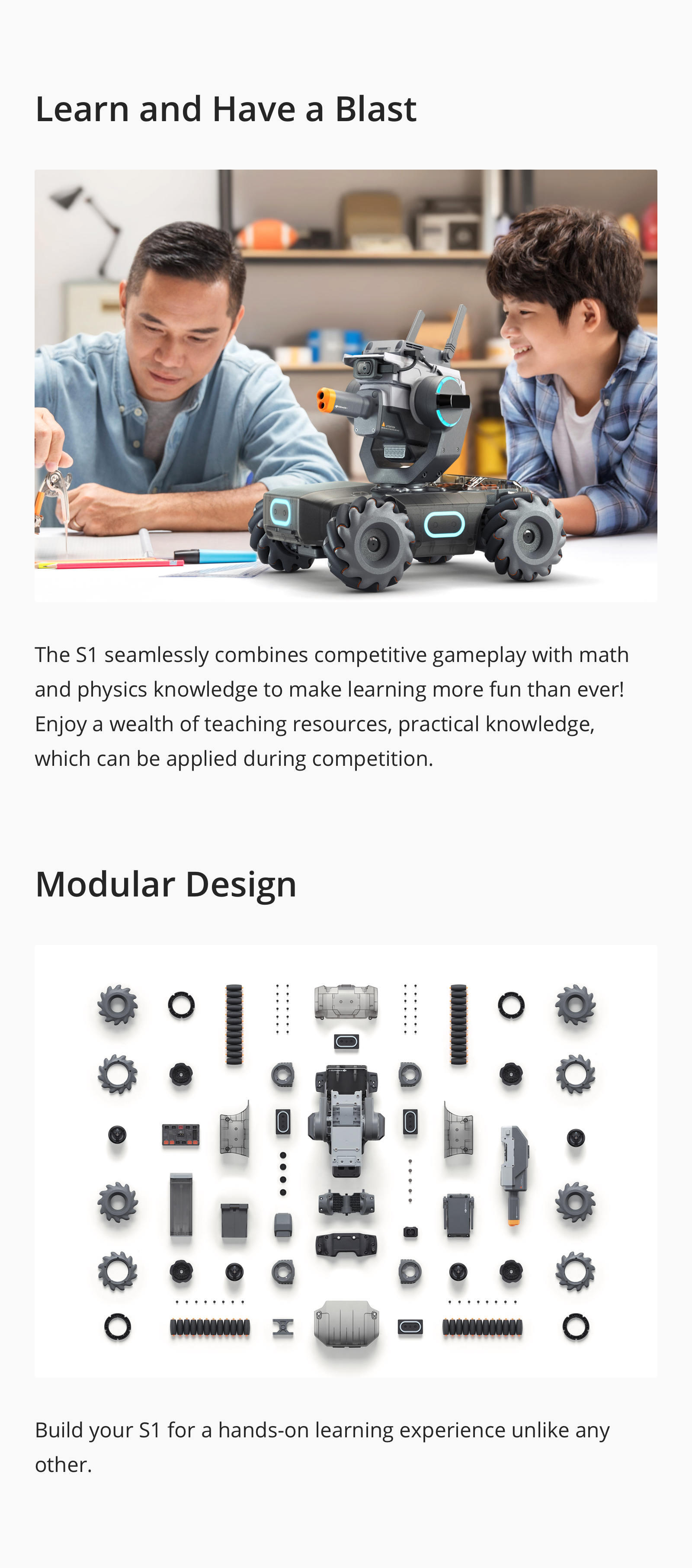 ---